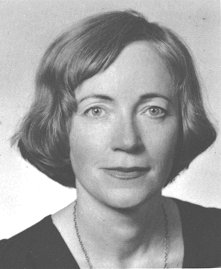 December 2000




Curriculum vitae

Born on April 21, 1935 in Kralovany, Slovakia of the former Czechoslovakia.
The daughter of two teachers, Karol and Zuzanna Malik.
Moved to Bratislava in 1941 where she graduated from Gymnasium in 1953. She continued her studies in history and art history in Bratislava and Prag. Graduated in 1959.

Worked since 1958 as custodian in the Museum of the City of Bratislava and the City Gallery of Bratislava (emphasis on contemporary art). Since 1962 scientific associate at the Arthistoric Institute of the Slovakian Academy of Sciences in Bratislava (field of research: Baroque Art). 1969 graduation as Ph.D in Philosophy at the University in Bruenn (Dissertation on Franz Xaver Messerschmidt 1736 - 83) and achieved the academic title of CSc (Kandidat of Sciences) at the academy of Bratislava (field of research: The school of G. R. Donner in Slovakia).

1969 emigration to Vienna, Austria. 1970-73 cooperation on a research project with the Arthistoric Institut of the University of Vienna, "The Viennese Ringstrasze". As part of this multivolume project, publication of "The Sculptures of the Vienna Ringstraze 1890 - 1918" (Franz Steiner - Publisher Wiesbaden 1976, 179 pages).
1971 Theodor Koerner prize for works about the Austrian Baroque.

1973 Marriage and move to Munich, Germany. During the years between 1975 and 1978 worked as free lance arthistorian for the Adalbert Stifter Foundation. Published scientific articles for trade magazines, cooperated on an exhibition catalog, among others, about Franz Metzner (1977) and the authoring of an extensive monograph about Franz Xaver Messerschmidt (Jugend & Volk Publischer, Vienna-Munich 1982, 298 S.)

Since December 1991 associate at the Arthistoric Institute of the Slovakian Academy of Sciences in Bratislava. 1993 promoted to Dr. of Sciences. Since 1994, assistant to the Chair of Art History at the Comenius-University Bratislava. 1995 earned residency with the publication of "Juraj Rafael Donner a Bratislava" (Tatran-Publisher Bratislava 1993, 120 pages). 1999 promotion to Professor, lecturing primarily on antique art and the Baroque. Scientific work in trade magazines with an emphasis on Georg Raphael Donner and his circle, among other achivements, cooperation on a major jubilee exhibition with the Austrian Gallery in Vienna 1993.